Know Your Rights
Know Your Rights is an online guide that shows what your rights are, how to exercise them and what to do when your rights have been violated.
Our team was tasked to redesign the Know Your Rights section on the homepage using our new stack. The goal was clear but our team wanted to conduct research to:
Learn how the public people navigate through the content
Understand when the public would look for the content
Identify the touchpoints where the public are looking for specific information
Validate if the content is clear and easy to understand
We conducted two rounds of research:
Interview and Usability
Content UX
Interview and Usability
The editorial team had already generated the latest Know Your Rights content earlier that year to produce a book that would be available at the ACLU online shop. Taking the existing content, we created comps with a new layout and copy from the book.
We posted an intake form for participants who were or knew somebody who was affected by the 9 issues areas that we covered in our Know Your Rights content.
Key findings:
There are two major touch points for when a public person would be looking at KYR content: to prepare for a situation ( students walk out, ICE raid) and validate if they are facing discrimination (racial discrimination, LGBTQ rights).
For topics like immigrants rights and stopped by police, users felt that it was appropriate to break down each scenario with a de-escalation path so they can stay safe followed by things they can do.
The public people also includes activists and community members who want to distribute information and bystanders who may want to know if somebody else's rights were violated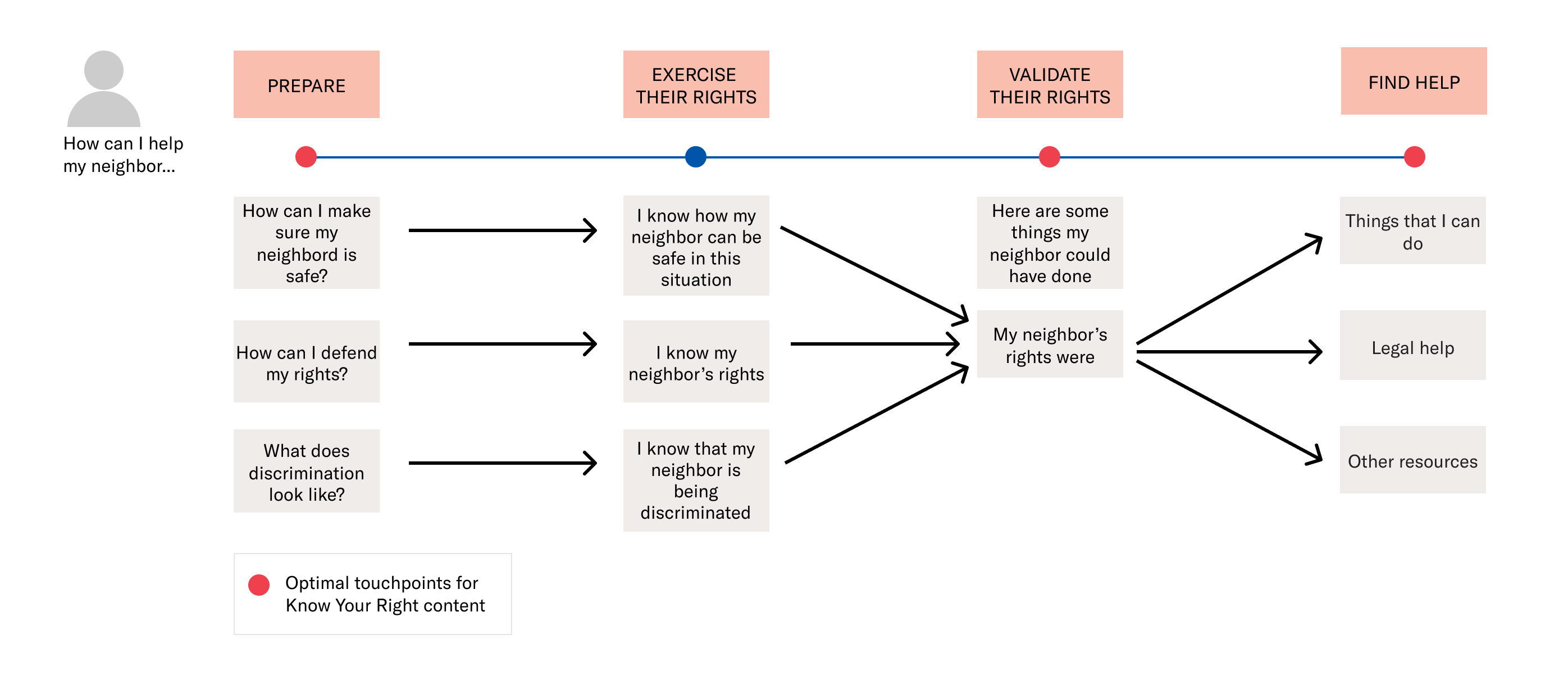 We iterated the content so that it is broken by scenarios and subsections within each scenario that sequenced in a way that can de-escalate a situation and give users a path to take action. The scenarios were written for the most at-risk folks in mind with subsections for what bystanders can do to help for certain situations.
Content UX Testing
We worked with our editorial team to recreate the content so that it is structured in this new strategy and worked with our lawyers who touch the 9 different Know Your Rights Issue areas to fact check so that our new copy wasn't misinterpreting the law. We recruited more participants with the same intake form from the first round but opened it up for folks who were interested in learning about the topics.
Visit ACLU Know Your Rights
︎