The American Civil Liberties Union is a 100-year old nonprofit that fights for civil liberties through court cases, activism and policy. The product and technology team was tasked to redesign the ACLU homepage after 4 years of it's last homepage launch. We also had a new audience after ACLU membership surged 4x after the 2016 presidential election.

Approach
Our design team did a listening tour with department leads and senior leadership and created cohesive narrative that we want to tell through the homepage.

Our collaborative goal was to:
Create a homepage that reflects the nationwide organization today (equal parts legal, organizing, & policy), conveys our significant impact, and gives ways for people to support us.

We conducted two series of research:

Interview and content usability


Usability testing with assistive technology users

Interviews and content usability
We interviewed 12 participants including members, activists, lawyers outside of the org, people who have known the ACLU for years and folks who recently learned about the org in the post-Trump era. For the interview portion, we wanted to gage what they knew about the ACLU and what they wish to know more about. For the content portion, we showed participants a series of wireframes with high level content in order to validate the message we are trying to convey is coming across and identify anything that is confusing or unclear.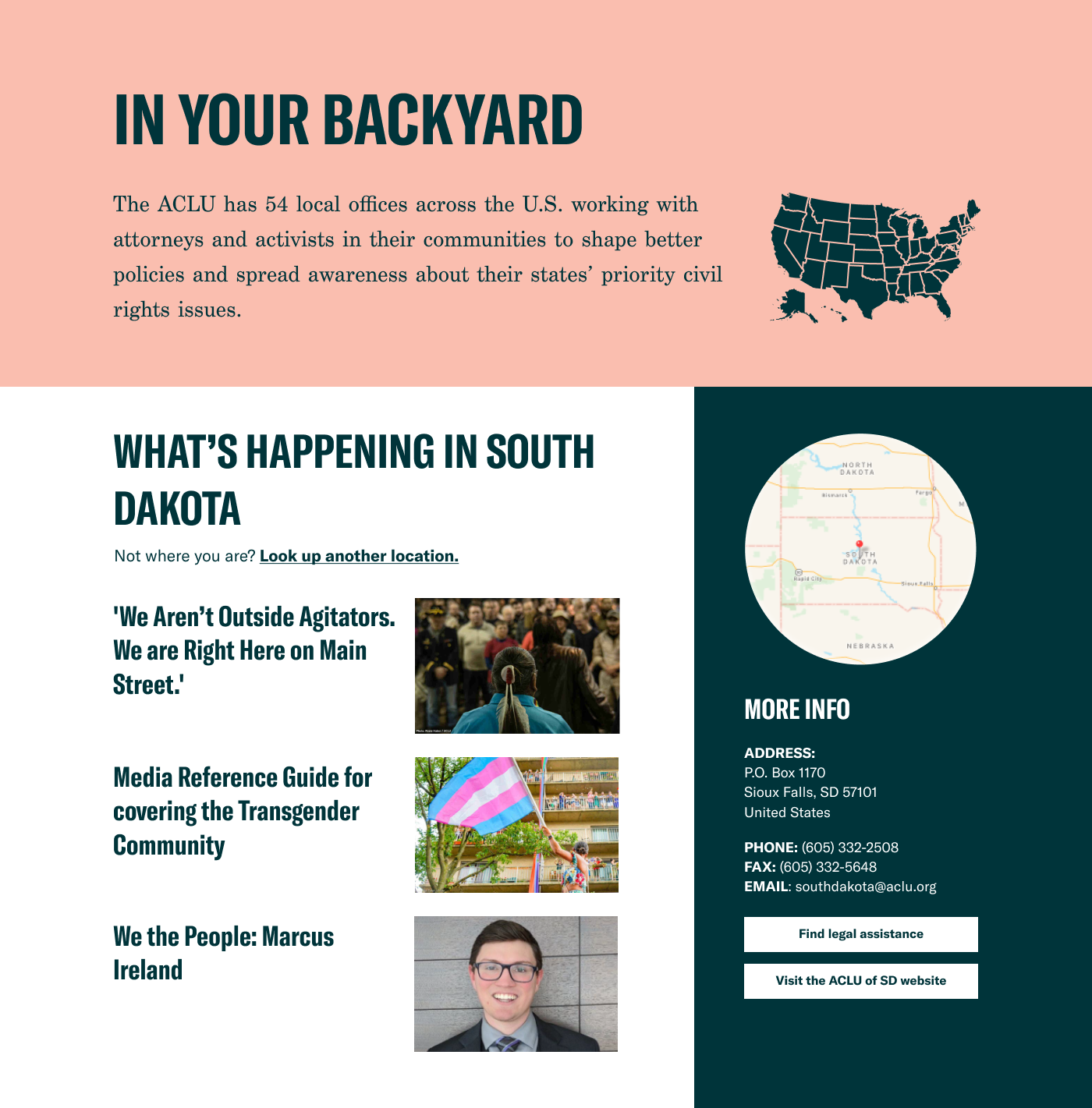 Usability testing with assistive technology users
Prior to the redesign, if you visited the website, you would see a static banner with Trump's face, with a donate button on top of it. We wanted to reframe the distressing static image and allow the top of the page to show the variety of wins and ongoing fights that the ACLU was working on. We designed a carousel, mobile first, to allow users to either watch or tap through our top stories. Carousels are frowned upon, especially in the accessibility community, so we embarked on a journey to test our homepage with assistive technology users.



Learn more about our research process and key findings.

︎